About
The Wikia Chat is a web-based and wikia-based chat room that was initiated with the creation of the Wikia.
Members of the Chat Room are frequently among the top rankers, precocious newbies, and knowledgeable but friendly leisure players.
Trolls appear infrequently, thanks to the ferocious demeanor of the residing chat moderators and administrators.
Chat Rules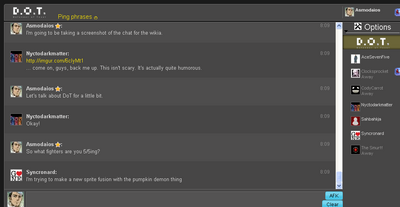 Chat Rules can be found at Chat Rules.
Moderation
Administrators, denoted with the

Symbol, include Voider98 .
Moderators, denoted with the

Symbol, include Garrrgoyles and Barfman2000 .